Receiving an anxiety diagnosis can be overwhelming and scary. Or, it may even be a relief for those who now have an answer to how they have been feeling and Therapy for Anxiety can help.
In fact, 19.1% of U.S. adults are diagnosed with some kind of anxiety disorder (i.e. general anxiety disorder, obsessive-compulsive disorder, social anxiety, panic disorder, PTSD).
While it is common and close to 1 in 5 people experience this disorder, you are not alone. Here are 5 ways that you can cope to help mitigate some of the common anxiety symptoms from an anxiety therapist at Modern Wellness Counseling.

Grounding Techniques
A common experience of anxiety is not feeling in control and/or feeling on edge. As a result, engaging in grounding techniques can be a way to re-focus, a way to self-soothe, can help with de-escalating your symptoms, and eventually feel at ease (even if it is for a little bit).
Here are some favorite and easy-to-use techniques:
Deep breathing exercises:
Often when we are feeling anxious, our breath may be shallow and fast. For many people, there is little awareness of this occurring. A great way to slow down your heart rate and take a moment to ground yourself is to engage in deep breathing. The easiest and simplest way to get started is by counting the seconds you inhale and the seconds you exhale. There are more deep breathing techniques that you can learn down the road. But let's focus on what you need to get started.
Exercise #1: Inhale for 4 seconds, exhale for 4 seconds and repeat for 1 minute.
Exercise #2: Inhale for 4 seconds (focus on diaphragm expanding), hold for 4 seconds, exhale for 4 seconds (focus on diaphragm relaxing), hold for 4 seconds, and repeat for 2 minutes.
Meditation:
Meditation has been proven to help people who experience anxiety by helping them:

Focus on the present instead of juggling many thoughts and worries
Increase empathy and self-compassion
Learn to let go of and accept

Guided meditation: Here is one guided meditation that you can practice today.
Visualization techniques:
Visualization can be helpful in grounding you to be relaxed and to help in your view of self. Different visualization techniques can focus on:

Your self-esteem
Your stress and anxiety level
Helping you overcome an upcoming event that has increased anxiety in the past
Or even help you get better rest at night

Visualization exercise: Remember a happy moment in your life, once you think of one, sit down in a comfortable and quiet place. Close your eyes and remember as many details of that moment as you can. Try to incorporate your senses by remembering and picturing what you see, hear, taste, smell, and feel. If you cannot recall exact details, it's okay to fill this part in with something that will also make you feel happy. Once this is thought and you have recreated that memory in your mind, take time to enjoy it before opening your eyes.

Prioritize your self-care and physical needs
When you take time to think of your self-care and basic needs such as sleep schedule, exercising, eating healthy foods regularly, and drinking enough water to name a few, you have a higher chance of being able to regulate your emotions. However,  when we ignore basic physiological needs, our bodies will naturally react with irritability, racing heart rate, low blood pressure, and feeling fatigued, which can sometimes mimic anxiety symptoms and can be confusing for you. Additionally, taking care of your physical health and engaging in some self-care skills, can be a way you cope with your anxiety.
Take some time to think about your self-care routine and be intentional with these actions. Give yourself credit for remembering to take care of yourself, even if that means telling yourself "good job for standing up to stretch this last hour."
Identify unhealthy coping responses
When we are trying to cope with anxiety symptoms, we will naturally do what is easiest and fastest to get rid of a symptom that is uncomfortable. Of course, you would! But sometimes the fastest way to get past symptoms may not be the healthiest for you long-term. Some common unhealthy coping responses may be:
Turning to alcohol and/or recreational drugs
Oversleeping
Binge eating
Engaging in destructive behaviors that include self-harm
Isolating yourself
Identify if you are engaging in any unhealthy coping behaviors and try to substitute this behavior with a healthy one. If you are having trouble figuring out what this looks like for you, be sure to speak with a licensed mental health provider.
Learn about your disorder
Knowledge is power and understanding your disorder can help you feel more in control whenever you are experiencing a symptom. You can do this by speaking with a licensed mental health professional who can help guide you in understanding your disorder. Steer clear from searching all of your symptoms on Google, as this can sometimes exacerbate anxiety feelings and thoughts if the first thing you read was "you now have cancer and may be dying tomorrow." Did you notice anything that happened to you just now by reading that last sentence? If so, take note of that and recognize that this happens every time you are Googling something.
When learning about your anxiety disorder from your online therapist, you will be able to identify triggers, which will then give you opportunities to implement and practice some of the grounding techniques listed above.
Remember to be you and have fun
You may have been diagnosed with anxiety but this is not your identity. It can sometimes feel this way when you are constantly experiencing panic attacks that are uncontrollable. But as you learn to cope with your anxiety, remember to not let this keep you from doing things you love and being around friends and family.
Be patient and practice self-compassion constantly!

Begin Online Therapy for Anxiety in San Antonio, TX with Modern Wellness Counseling
Getting Scheduled
Getting started with an anxiety therapist for Therapy for Anxiety is easy and convenient. You can schedule online through our client portal.
If you are planning to use your insurance, please note that only a few clinicians accept limited insurance plans for Therapy for Anxiety. You can give our office a call at 210-706-0392 and our intake coordinator can answer any questions you may have. If your insurance is accepted, she can get you scheduled and gather the needed insurance information.
What we need from you
In order to get scheduled for online anxiety therapy, we will need the following from you (whether you schedule online or by phone): your full name, email address, and phone number.
We do require you to make a $40 deposit to hold your intake session. This deposit goes toward your first session's payment.
What to expect between scheduling and your session
After you get scheduled, you will receive a link to your secured client portal. You will have documents to sign and complete 24 hours before your intake session. This allows for your intake session to be focused on your presenting issue.
Ten minutes before your session, you will receive a secured link for your video call. You can use this link to join in on your online therapy session.
Other Therapy & Counseling Services at Modern Wellness Counseling
By Priscilla Rodriguez, M.S., LMFT, Owner of Modern Wellness Counseling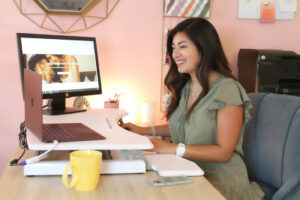 Priscilla specializes in working with couples and individuals who have experienced issues with communication.  As well as those who are looking to find healthy ways to reconnect with their partner. Priscilla utilizes research-based techniques to help clients implement healthy coping skills and communication skills. Learn more on how you can enhance your relationship today.