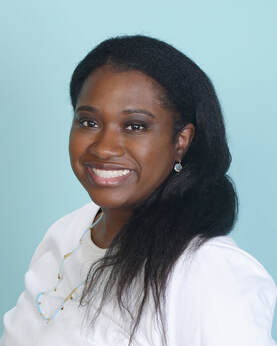 Couples
$200 Initial Intake (75 min)

$150 Follow-up Sessions (50 min)
Individuals
$160 Initial Intake (50 min)

$135 Follow-up Sessions (50min)
Insurances Accepted & Coordination
Robin currently accepts the following insurances:
For Individual Counseling: Aetna, UHC, Oscar Health, Oxford, and Cigna
For Couples Counseling: Aetna, UHC, Oscar Health, and Oxford
Please call our office at 210-706-0392 if you would like to use your insurance.
Hello I'm Robin McDavid-Ransom and I'm a Licensed Professional Counselor and Licensed Chemical Dependency Counselor
At a young age I knew I wanted to help people and assist them in overcoming life challenges. As a counselor I believe in meeting people where they are and providing them a haven to grow emotionally and reach their goals. Having over five years of professional experience serving children and families in nonprofits and schools has taught me the importance of how strong relationships and secure attachments can be beneficial to individuals, couples, and families at any stage of life.
I am also a Certified Prepare/Enrich Facilitator which helps me conduct assessments for couples in any phase of their journey rather they are needing premarital counseling or a married couple experiencing distress. My interest is in working with couples and women who are overcoming concerns related to infertility. I believe that every individual and relationship is unique and as a counselor I use a combination of DBT, motivational interviewing, solution-focused, and emotional focused therapy.
It is my honor to help you in your therapeutic journey.
I have experience in working with the following:
addiction, depression, intimacy, past trauma, grief, communication, anxiety, self-esteem, body image issues, LGBTQI, parenting, maternal mental health, infertility, stress, and relationship issues.
I am a Licensed Professional Counselor under the Texas State Board of Examiner of Professional Counselors and Licensed Chemical Dependency Counselor under the Texas Certification Board of Addiction Professionals, License # 77963.
Education and Affiliations
In 2017, I received a master's degree in Professional Counseling at Amberton University. I received two bachelor's degrees from the University of Texas in Arlington. One in Communication and the other in Interdisciplinary Studies with a focus in Communications, Sociology, and Criminal Justice.
My practicum was at Hickory Trails Psychiatric Hospital, and I provided psychiatric services to a diverse population. I helped people diagnosed with various psychiatric disorders such as depression, anxiety, addiction, schizophrenia, and bipolar.
In addition to my practicum, I also completed twelve hours of Emotional Focused Therapy Attached Based Interventions for couples in crisis.
Me outside the therapy room
When I am not in a therapy session, I like spending time with my spouse and three children. This usually includes park dates, occasional date nights, watching episodes of Super Why or Peg + Cat, and finding hidden gems and new places in Texas. When I have a little time by myself I like to attend Zumba classes.