​I have discussed in a previous blog series of how to maintain intimacy and passion in your long-term relationship, and while this approach is thinking more of the long term stability of intimacy, I know there are times in which you and your partner are experiencing differences in your desire. In fact, one study found that 80% of couples experienced a sexual desire discrepancy in their relationship (Rehman et al., 2011). So, don't worry if this happens, it's more common than you think. In this article we'll discuss how to work through a situation when my partner wants to have sex, but I don't.
So, what happens that one day when you do not want to have sex and your partner is clearly "in the mood?" Below I share some different approaches on how to handle this.
How Reassurance Helps
​Let's be honest here, when your partner is trying to get close to you sexually and you tell them that you are tired, not interested in the moment, or not in the mood, your partner may be able hear you and accept what you just said because they care about you, but at the same time it still hurts a little bit.
​
What often helps overcome this feeling for your partner, is that they can fall back on knowing that you are attracted to them and you do desire them because this is something that has been verbalized throughout the day/week.
What Does Reassurance Look Like?
Giving and receiving compliments throughout the day tells your partner that you are attracted to them.
Let your partner know that you do desire them.
Share how you care for each other (i.e. doing tasks around the home, helping with the kids, spending quality time together).
​Giving and receiving this reassurance throughout the day allows the opportunity to increase emotional intimacy and have time to just cuddle or be physically close. By having this reassurance, it doesn't feel like a big rejection or have a negative thought like: "well every time I try to get close to you, you just push me away."
​
Communication and Vulnerability are Key
​Is physical touch your partner's love language? If so, it's important to communicate about how this need can be met. Having an open and honest conversation about how sexual intimacy can be met in different forms and how both people can feel satisfied and fulfilled is key! Sometimes partners push away their partner when they are just trying to express love and affection. If there is constant rejection and if physical touch is valued highly, then this may lead to a potential build up of resentment.
​
What would happen if I just have sex even when I am tired? Is this bad?
​Well of course not! One study found that when a partner was willing to meet their partner's sexual needs because they wanted them to feel loved and desired, this benefited both partners in the relationship in that they were able to maintain sexual and relationship satisfaction (Muise, Impett, Kogan, & Desmarais, 2013). These couples were more likely to feel connected and knew of each other expectations. This was the case even for partners who were aware of feeling tired and felt that it was easier to let go of this tiredness for a moment of benefitting both partners and the relationship. Of course, this only worked when the partner was willing to meet the needs based on their own agency and not being coerced.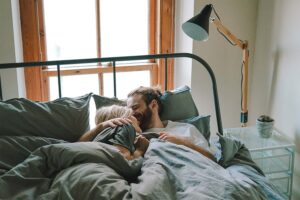 Like I mentioned above, there are different options of changing up how you may approach this situation. One option can be that you openly communicate to your partner that you are not in the mood and would like to connect another way. An alternative option can be that you acknowledge you are perhaps tired to have sex and have sex because you do know that it will benefit both of you at the end.
So, the next time that your partner is trying to be affectionate with you, instead of thinking "OMG get away from me," remind yourself on how you can reassure them and communicate what you are experiencing. Not communicating about sex can lead to unwanted thoughts and feelings.
Will it be awkward to do this? If this is the first time you are trying this, then yes! But it's best to start communicating now, because if not now, then when?
​
​References
Muise, A., Impett, E. A., Kogan, A., & Desmarais, S. (2013). Keeping the spark alive: Being motivated to meet a partner's sexual needs sustains sexual desire in long-term romantic relationships. Social Psychological and Personality Science, 4, 267-273.
Rehman, U. S., Janssen, E., Newhouse, S., Heiman, J., Holtzworth-Munroe, A., Fallis, E., & Rafaeli, E. (2011). Marital satisfaction and communication behaviors during sexual and nonsexual conflict discussions in newlywed couples: A pilot study. Journal of Sex & Marital Therapy, 37(2), 94-103.
If you have found desire discrepancy to be an issue in your relationship or have found it difficult to communicate about sex in your relationship, I invite you to schedule a therapy session where you and your partner can learn how to approach this issue and reach a level of intimacy you both are longing for. I also have an online class geared towards sexual intimacy and you can find it here.