​With the turn of a new year, and as many people think about what they can be doing differently or perhaps even maintaining. I would like to encourage you to think about what you are doing to love and care for yourself.
Around the holidays I talked about the 5 Love Languages and gave suggestions on how to give gifts based on your partner's love language. Because January is Mental Wellness month, I wanted to focus on ways you can focus on your mental health, while doing small and easy things for yourself based on your love language. Remember that is it is okay if your love language is different when it comes to loving yourself versus how you want to be loved by others. For example, you may put Receiving Gifts from your partner at the bottom of the list, but it may be number one for when it comes to self-love. Have an open mind, remember this is just for you!
Words of Affirmation
If words of affirmation is how you love yourself, you may enjoy the following:
Journal
Remind yourself of inspiring quotes or
Even repeat back positive mantras.
We can often be our own worst critique and changing how you talk to yourself to be motivating, supportive, and kind, can make a difference in your outlook on life, how you push yourself to reach your personal goals, and how you even receive love from others.
Receiving Gifts
This goes beyond going on a shopping spree and can include buying small things like:
Your favorite coffee
Buying things that you love and will bring joy
​This can also include making bigger purchases:
Something off of your bucket list (i.e., painting class, cooking class)
Upgrading something in your home (i.e., a new grill or furniture)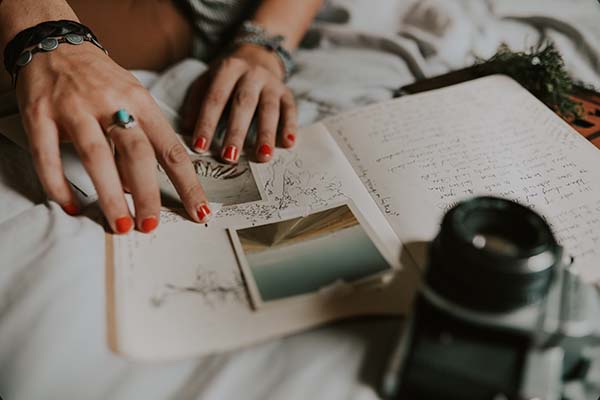 ​Physical Touch
If physical touch is how you enjoy loving yourself then perhaps enjoying the following will express self-love:
A bubble bath
New body lotion
Wearing your favorite loungewear while you relax or
Making time for stretching and exercise.
When engaging in physical touch, think about how you are caring for your body and practice thinking of how grateful you are for what it all does for you and how you are taking physical care of yourself.
Quality Time
It is important to make time for just yourself. You can do this by making sure you are allowing yourself to be focused on something you enjoy.
Turn off your notifications when you can
Engage in a few minutes of mindfulness and meditation daily
Make time to have fun
Try not to over book yourself
​Acts of Service
Acts of service for yourself means that you can do things that will help you out in the future.
Meal prepping so that you are not overwhelmed during the week and are able to make sure you are eating a balance meal
Scheduling your doctor and therapy appointments
Making your bed in the morning
Organizing your home so that it is functional for your lifestyle
​Take time to love yourself and remember that this can change! The most important part is that you take time to take care of yourself. If you have found that you have limited time throughout your day, I encourage you to start with just 2 minutes a day, literally, 2 minutes to take a deep breath, tell yourself "I am loved," enjoy your coffee, be intentional in choosing your favorite loungewear, or making your bed in the morning. Regardless of what you will be doing to take care of you, remember that you are worth it!
---
I specialize in working with clients who are looking for balance i n their  lives and learning practical and realistic ways to loving themselves and growing as an individual. Taking the time to learn how to take charge of your life is the best gift you can give yourself! Feel free to contact me if you would like to schedule your session.