Addressing your past trauma with Online Trauma Therapy has never been easier and here is how you can start today. 
Making the decision to confront your past trauma head-on can feel daunting! You may be asking yourself, "why do I have to do this? It's in the past, it's already over. This will be a waste of time."
However, you have become frustrated with feeling like you are stuck and have noticed patterns within your relationships, maybe your motivation at work, or perhaps with how you view yourself. 
You recognize that there may be a link there to the past trauma, but how could it? Your past trauma was over a decade ago! 
Unfortunately, unaddressed trauma can linger in the background and randomly pop up in your responses to stress, how you view yourself, or how you interact with others. 
The good news is that it does not have to stay this way! At Modern Wellness Counseling our team of therapists are trained in helping you process and overcome trauma and we are ready to help!

Getting started with Online Trauma Therapy
Our online licensed therapists can help you get started by first learning more about you before your treatment even begins. When you schedule your first online trauma therapy appointment, our intake coordinator will send you a thorough intake assessment for you to complete. Before your session, your assigned therapist will review your paperwork and be prepared to meet with you. During your first session, you and your therapist will review your goals of therapy, and begin to identify and label your past trauma, and will be a time for you and your licensed therapist to learn more about each other. During this time, your therapist will be able to meet you where you are at and be able to apply research based therapy techniques to begin helping you through your therapy treatment.
Gaining a better understanding
Our licensed therapists understand that one hour will not uncover everything there is to know about you and your past trauma, but it is a great place to start. During your intake assessment (and throughout your trauma therapy treatment) we take a collaborative approach, meaning that we want to hear what is working and not working for you. At the end of your intake assessment, your trained and licensed therapist will have a better understanding when it comes to creating your treatment plan.
Online Trauma Therapy techniques
Your online licensed therapists will utilize different therapy techniques to help meet you where you are at in your healing. Our online therapists will utilize interventions from different treatment methods such as, Eye Movement Desensitization and Reprocessing (EMDR), Brief Solution Focused Therapy, Narrative Therapy, Shame-Informed Therapy, Client Centered Therapy, Feminist Theory, Cognitive Behavioral Therapy, and Dialectical Behavioral Therapy.
Interventions are tailored to your personal situation
You can feel confident in knowing that your licensed therapist will be using research based techniques when helping you reach your goals and will be able to tailor these interventions to meet you where you are. We understand that every client's experience is their own experience and with the help of your intake assessment and first few sessions, your therapist will be able to make a professional decision on which interventions can help you and at what point.
Rehash it all out
Do not worry, our goal is not to "retraumatize" you by talking about all the details of the actual traumatic event. Instead, our goal is to help you understand how it is affecting you today. As well as to identify behaviors that may need to be changed. The therapy approaches above act as a guide for our therapists when you are receiving treatment online. Sometimes it may be helpful in helping you process a traumatic event, this way we can identify triggers and current responses, but this is dependent on your unique case. 
Behaviors that may be addressed during Online Trauma Therapy
We understand that your trauma and responses are unique to you. But here are some common responses that we have seen and have been able to address. Of course, this is a short, compiled list. 
Some common behaviors that may be addressed with trauma are:
Experiencing high anxiety that interrupts concentration and ability to stay present.

Feeling on guard and needing to protect yourself and loved ones. You notice this impacting other family relationships and being social.

Difficulty sleeping and being able to self-regulate/feel relaxed.

Experiencing nightmares that are upsetting. 

Finding it challenging to trust others.

Self-blame and shame related to the event.

Feeling helpless about the future and losing motivation. 

Detaching yourself from friends, family, and loved ones.

Sometimes we have to explore how past traumatic experiences may be impacting your physical health. Such as stomach upset, random sweating, severe headaches, pounding heart rate, breathing fast, or feeling shaky. 
During your trauma therapy sessions, we will be able to identify how your past trauma is affecting you today. And we will work together to face this head on. 

Learn healthy coping mechanisms
During your time of receiving online Trauma Therapy, you will learn to identify and implement different healthy coping mechanisms. Our therapists understand that everyone experiences coping mechanisms differently. So with a collaborative approach, together, we will find what works best for you. Some healthy coping mechanisms may include challenging cognitive narratives, implementing behavioral responses, using different items to help ground you and remind you that you are safe, learning meditation techniques, and more. 
How long will online Trauma Therapy take? 
There is no telling on exactly how many sessions it will take to work through past trauma. At no point, will we rush you to move through your treatment goals, and with our collaborative approach, you have a say every step of the way.
We know that this can feel overwhelming to get started, but we are here to help you get past your trauma. 
Begin Online Trauma Therapy in San Antonio, TX with Modern Wellness Counseling
Getting Scheduled
Getting started with a trauma therapist is easy and convenient. You can schedule online through our client portal.
If you are planning to use your insurance, please note that only a few clinicians accept limited insurance plans for trauma therapy. You can give our office a call at 210-706-0392 and our intake coordinator can answer any questions you may have. If your insurance is accepted, she can get you scheduled and gather the needed insurance information.
What we need from you
In order to get scheduled for online trauma therapy, we will need several items from you. These include your full name, email address, and phone number.
Additionally, we do require you to make a $40 deposit to hold your intake session. This deposit goes toward your first session's payment.
What to expect between scheduling and your trauma therapy session
After you get scheduled, you will receive a link to your secured client portal. You will have documents to sign and complete 24 hours before your intake session. This allows for your intake session to be focused on your presenting issue.
Ten minutes before your session, you will receive a secured link for your video call. You can use this link to join in on your online therapy session.
By Priscilla Rodriguez, M.S., LMFT, Owner of Modern Wellness Counseling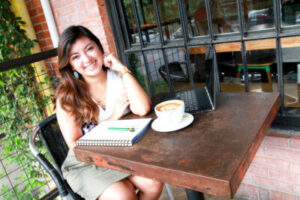 Priscilla specializes in working with couples and individuals who have experienced issues with communication.  As well as couples who are looking to find healthy ways to reconnect with their partner. Priscilla utilizes research based techniques to help clients implement healthy coping skills and communication skills. Learn more on how you can enhance your relationship today.